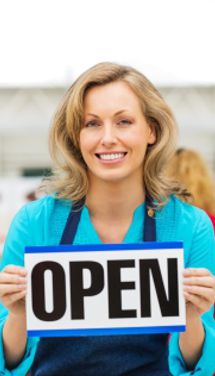 Commercial Insurance
As a business owner, you have enough on your mind without worrying about your insurance. You want to have the confidence that your agent and insurance company understand your business and have provided you with coverage that will allow you to continue to operate in the event of a loss or claim.
Commercial Auto:
Commercial Auto insurance products are designed to cover your fleet for liability losses to a third party and also for damage to your vehicle from a collision, hail, fire or theft.
General Liability:
General Liability insurance protects your business for financial loss resulting from a third party bodily injury or property damage claim arising from your premises, your products or your work. A valuable coverage provided by the policy is defense in case you are sued.
Workers Compensation:
Workers' Compensation coverage insurance provides four types of benefits, medical care, rehabilitation services, disability and death, resulting from employee injury suffered while on the job.
Business Umbrella:
Business umbrella insurance provides an additional limit of liability insurance in excess of your general liability, auto liability and employers liability limits. In the case or a catastrophic liability claim, it can pay after you have used up your primary liability limits.
Business Property:
Business property insurance can cover your real and/or business personal property from damages caused by fire or lightning, smoke, vandalism or theft. Your business personal property can include property on your premises such as office contents or retail & wholesale stock & machinery. There are also specific policies available to cover your property when it is not at your premises. Some examples are contractors' equipment at a job site, motor truck cargo, installation coverage at another site, etc. No coverage is provided for damage from flood or earthquake. You can purchase a separate policy for those exposures.
Business Interruption:
Business interruption insurance can provide coverage for financial loss you suffer if you are temporarily shut down due to a loss from fire or windstorm. You may be able to recover your net profits lost. You can also choose to include Extra Expense coverage which would give you additional limits to cover ongoing expenses or to temporarily operate elsewhere.

We can offer you many other specialty types of coverage. Employment Practices Liability can cover you for claims by an employee of wrong termination, discrimination or harassment. Professional Liability policies can provide coverage for claims arising out of the rendering or failure to render of professional services. Doctors, Nurses, Lawyers, Architects and CPA's are examples of these. Directors & Officers Liability coverage can provide protection for the directors & officers of businesses or association for the decisions they make.
Contact us today, and let us help you choose the correct commercial policy.
512-447-7995